A virtual assistant provides solutions to daily tasks that take up your time.
We are Business Strategists, We help entrepreneurs grow their social platforms, Grow their Brands, and provide free business tips.
We provide solutions to the below tasks.
These Task mentioned below are negotiate able depending on your preferences.
We enjoying the tasks of a Social Media Manager.
DOCUMENT MANAGEMENT SPECIALIST
Data Entry
File Management
Record Management
Script Writing
DATA MINING AND VISUALIZATION
Data Mining
Web Scrapping
Lead Generation
WEBSITE DESIGN AND MANAGEMENT CONSULTANT
Website Design
Blogging Design
BRANDING
Graphic Design
Logo
Branding
Facebook Marketing
SOCIAL MEDIA MANAGEMENT
Listening and Engaging with content.
These tools and services (creating, scheduling, analyzing, listening and engaging) help save time, improve and increase productivity.
Social media management services focus on
-Highlighting the positive aspects of what your company has to offer.
– Responding quickly and effectively to any direct messages you receive (both positive or otherwise)
-Sparking conversation where relevant to better increase your engagement.
Below is our charge with regards to Social Media Management.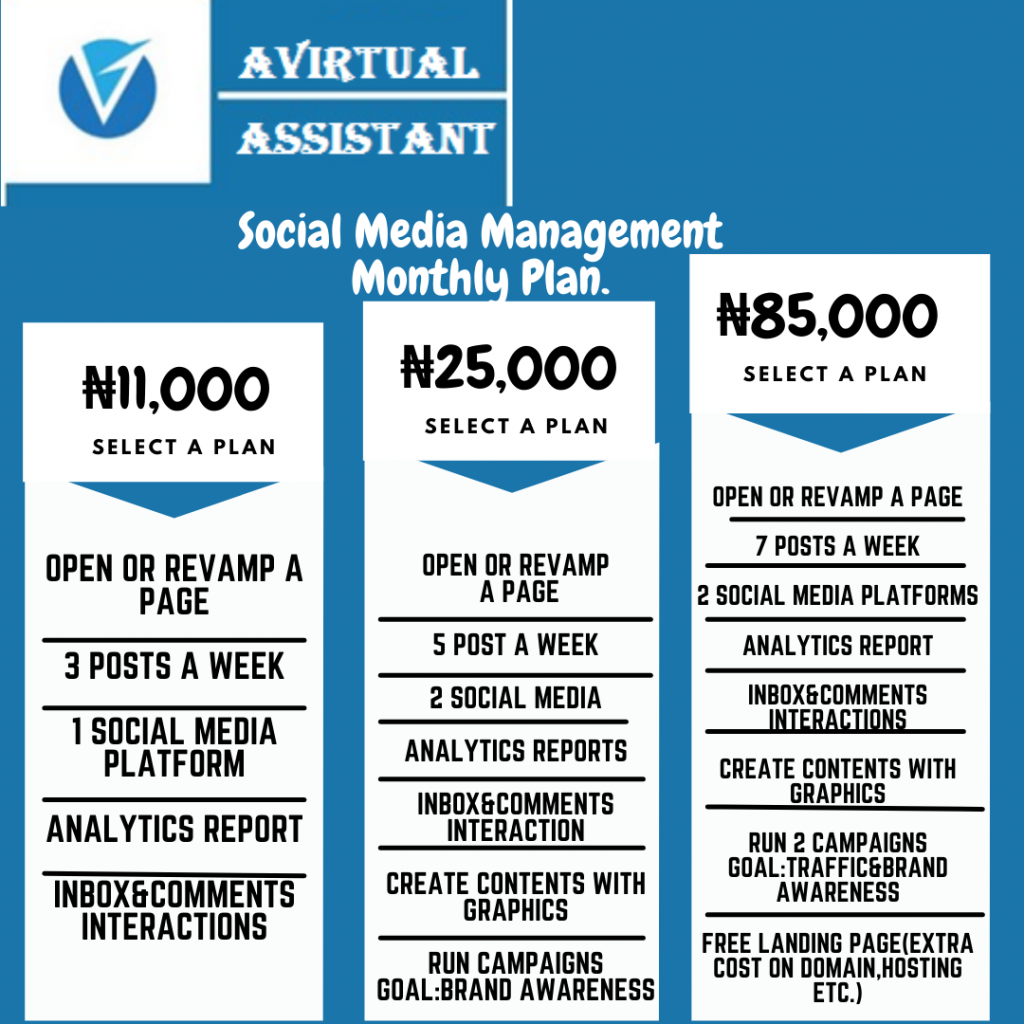 Are you in need of a virtual assistant to create or revamp your social business page for success?
Do you need a virtual assistant to create contents and graphics?
Are you interested in e-mail marketing?
Are you interested in running campaigns targeted at increasing traffic and brand awareness?
Reach AVIRTUAL ASSISTANT SERVICES on WhatsApp number 07013968214.
We are your…..
GUARANTEED TOUCH OF EXCELLENCE
Adaeze Unachukwu
(CEO AVIRTUAL)
Managing Social Media Arm/website chat and Building Brands For Businessowners/Politicians/Celebrities/Clergymen/Schools.
WhatsApp: 07013968214
Website: www.avirtual-assistant.com
Email: adaeze.unachukwu@avirtual-assistant.com