Description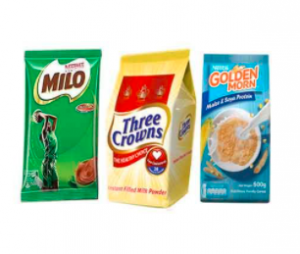 Milo 500g
Starting your morning with a hot cup of cocoa is something we're all familiar with.
These yummy chocolate food drinks fill us up and give us the energy and nutrients to go about our busy days.
When the cocoa powder melts into the hot water and we stir it up, we know our day is off to a great start.
Three Crowns Milk 350g
Three Crowns milk is Nigeria's leading Low cholesterol milk from the stable of the No. 1 dairy company.
Available at Jumia grocery shop.
The Ingredients in the three crowns milk powder are skimmed milk, vegetable fat, lecithin, sucrose, vitamins A, D3, E, K1 . Suitable for everyone
Golden Morn 450g
ENERGY for a great start to your day
A nutritious, delicious, and filling cereal made with wholesome grains to energize you and your family, the delicious Golden Morn Instant cereal is very easy to prepare, all you need to do is add milk!
Nestlé GOLDEN MORN Maize provides you with a nutritious and wholesome breakfast fortified with Vitamin A and Iron with the added benefit of whole grains.
You've got VITAMIN A for good vision, IRON for the formation of red blood cells (transport oxygen to the cells), and CALCIUM for strong bones and teeth.
Together we make a difference with Golden Morn. Golden Morn comes from the agricultural efforts of thousands of local small-scale farmers assisted by Nestlé to improve the quality of their grains.