Description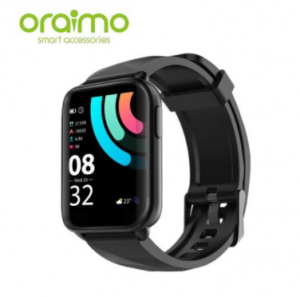 Color: black
Screen: 1.69″ IPS 240*280
BT Version: V5.0
Cell Capacity: 200mAh
Standby Time: Up to 15 days
Watch Size: 43*35*9.95mm
Weight: 165g
Material: Zinc Alloy/PC/TPU
Waterproof Rating: IP68
Optimize Your Sleep
Records your deep, light sleep and awake time to help you understand the quality of your rest. Then wake up ready in a light vibration to take on the world.
Live Free, Splash Away
No need to worry about water splashes or sudden rain. Rated IP68 for splash, water, and dust resistance, your watch is well-protected.
Ultimate Comfort On Your Wrist
Whether you're pounding the pavement or out for dinner, the oraimo Watch fits perfectly. Both thin and light, it is so comfortable you'll never want to take it off. A soft, skin-friendly TPU strap makes it comfortable to wear.
Beauty to Match
Curved glass creates bezel-less vision. The uneven, diamond-pattern strap shows in two-tone that looks more premium. And the back panel uses phone-grade craftsmanship that embeds the ink into the PET film, which makes it scratch-resistant and gets more glossy after year and year's uses.
APP to Push You Further
See the whole picture by using the watch with the free APP to set the goal and get the data.
Female Health Tracking
Understand your body on a deeper level by using your watch with the app to follow your cycle, track your ovulation, get reminders and more.
* This function only works after setting the gender to female, enabling notification, and then syncing to your watch on Joywear 2 APP.
Upgraded Wireless Tech Equipped with BT5.0, the oraimo Watch works at a wider range up to 66ft, and transmits more data at once with a faster speed, while consuming lower power.
Anytime, All The Time

Adopting the Power-Saving technology in the whole system, it stays by your side for up to 15 days* on a single charge.
Offer valid while stock lasts.